Hello Larries :)
Edit
❤︎WELCOME TO THE OFFICAL LARRY STYLINSON WIKIA ❤︎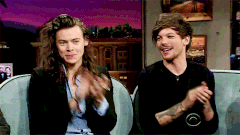 This is dedicated to Louis and Harry and their epic love story.
It will hopefully soon contain the entire backstory about larry and more recent events. This is a friendly and safe place for people to be (i.e. negativity is NOT APPRECIATED and could result in a ban).
Please enjoy and feel free to edit pages where there may be mistakes or a lack of information; the easiest way to build this up is for everyone to contribute.
- Emma. x
(ps larry is clapping for you☀︎)
Larry Stylinson is the alleged romantic relationship between bandmates Louis Tomlinson and Harry Styles from One Direction. It is such a common fan conspiracy that it has been used by journalists and in real life situations. Though many denials have been made, it is clear many of these claims seem fake and manipulated. Many pieces of evidence show that the conspiracy could have a certain truth to it, some ideas being a little more far fetched than others, but contribute to the issue none the less.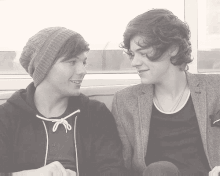 Despite the image of the two men being constantly pushed in a heterosexual direction by the media, it has been shown that both boys fully support the LGTB+ community and (Harry especially) have no problem with their sexuality being questioned. Being linked to hundred of women, Harry's appearance to the general public has remained fairly protected, with louis' previously long term girlfriend Eleanor Caulder and now supposed baby mother Briani Jungleworms protecting his own image.
It was obvious to many from the very beginning of One Direction's rise to fame that Styles and Tomlinson shared a special bond throughout their time on Britain's 2010 X-Factor Series (on which the boys finished in 3rd place). Acting carelessly and on impulse, many iconic moments between the pair were created and people quickly began to take notice of their closening relationship.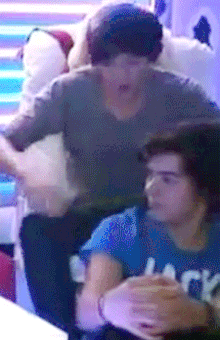 As the years drew on, their relationship evolved dramatically. The two moved in together following the conclusion of the show and were reported to have moved out in early 2012, despite many articles and evidence showing otherwise (it is believed that they could still be living together, with new evidence from 2015 supporting this theory). After many years of their 'friendship' growing increasingly stronger, it was shocking to all members of the fandom as the pair appeared to 'grow apart'. They were prohibited from talking and interacting in interviews, social and public events. Many precautions were taken by their management to ensure that they weren't seen together, even going as far as to prevent them from standing or sitting next to each other.
This strange lack in their relationship lasted years, and was first apparent nearing the middle of the Take Me Home Tour (2012). It has only been very recently that the two have been allowed to interact freely again, but it already seems as though nothing ever changed between the pair. To many, the fact that their behaviour was so closely monitored and manipulated showed that there was something going on between the pair.
If they really were just friends, why would they have had to stop talking in the public eye at all?
The whole situation is very peculiar and amounts to possibly the most epic love story of all time. If you take the chance to truely dive into all the tiny aspects of it, I assure you, you won't be disappointed.
(Disclaimer: this could ruin your life..)
Queries or Questions
Edit
Feel free to follow or contact me using the links below, otherwise enjoy :)
My Tumblr: lourryspineapples
My Twitter: narryspineapple
ps larry is real peeps